St George's School teacher Gerard Singer jailed for sexually abusing boys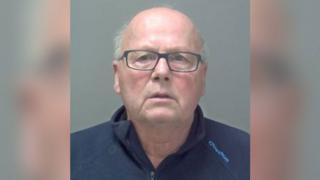 A former boarding school teacher has been jailed for 21 years for sexually abusing boys.
Gerard Singer, 69, was found guilty in July of abusing pupils at St George's School, based in Norfolk and then Suffolk, between 1978 and 1981.
One victim said he was tied face-down to a bed and awoke to find he had been sexually abused.
Singer was convicted of 27 offences, including performing sex acts and gross indecency.
Read more on this story and others on the BBC Suffolk Live page
Judge Martyn Levett, sentencing at Ipswich Crown Court, said there would be an extra eight years on licence added to the jail term.
He said: "I cannot detect that there is any repentance or atonement in the intervening 35 years."
During the trial at Ipswich Crown Court, prosecuting counsel David Wilson said Singer "abused his position of trust" at the school, which was first based at Wicklewood near Wymondham in Norfolk, and then Great Finborough near Stowmarket in Suffolk.
The court heard Singer, whose address was given as Elnes in north-eastern France, had given gifts to pupils to win their favour.
One of the eight victims spoke to the BBC of his relief at being "believed by others".
He said: "It affects you in many, many ways - how you lead your life, how you interact with people - it's always at the back of your mind.
"Because of what happened, to be able to trust other people has been very difficult, almost impossible."
Suffolk Police began an investigation into St George's in 2009 after former pupils made allegations of abuse.
Former headmaster Derek Slade, who died in March, was jailed in 2010 for abusing 12 boys, while maths teacher Alan Brigden was jailed for five years in 2012.
In 2011 another teacher, Alan Williams, killed himself after being arrested on suspicion of sex assaults at St George's.