Lauri Love: MPs sign letter asking President Obama to block extradition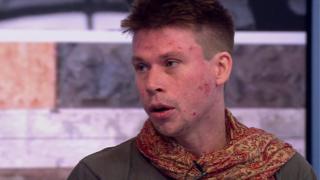 More than 100 MPs have signed a letter calling on President Barack Obama to block the extradition of a British man suspected of hacking into US computers.
Lauri Love, 31, who has Asperger's syndrome, is accused of hacking into the FBI, the US central bank and the country's missile defence agency.
The letter, signed by 105 cross-party backbenchers, stresses the "deep concern for the safety" of Mr Love.
He has previously said he feared he would die in a US prison if extradited.
For this and other stories, visit the BBC Suffolk Live page
Earlier this month, a judge at Westminster Magistrates' Court ruled that Mr Love, from Stradishall, Suffolk, could be sent to the US to face trial.
His lawyers say he could be sentenced to up to 99 years in prison if convicted.
The MPs said Mr Love had "a long history of serious mental health issues, depression and some episodes of psychosis".
The group said the UK had prosecuted at least 12 people who had hacked US-based computer systems.
"Indeed, Mr Love would be the first UK-based computer hacker to be extradited and denied the opportunity to face a full prosecution in the UK," they wrote.
"We would like to ask, why then is the United States insistent on Mr Love's extradition, despite the UK having a proven track record of appropriately sentencing and rehabilitating individuals who have committed computer-hacking offences against the US?"
Mr Love's father, Rev Alexander Love, welcomed the support of the cross-party group.
Rev Love said: "The judge accepted he [Lauri] had mental health issues, but still said there was a public interest to honour the extradition to the US.
"If he has done something wrong surely he should be tried here in this country."
Mr Love was first arrested at his home in Suffolk in 2013 and had computer equipment seized by British police, but the UK investigation into him was dropped.