Adele Bellis's acid attacker appeals against conviction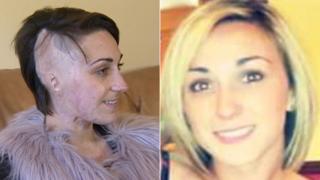 A man jailed for life for arranging an acid attack on his ex-girlfriend has won the first stage of an appeal to overturn his conviction.
Adele Bellis, 23, was scarred for life after the liquid was thrown on her at a bus stop in Lowestoft in August 2014.
Anthony Riley, 27, was jailed for at least 13 years following a trial.
His lawyers have argued a deal one of his fellow defendants in the case made with prosecutors undermined the safety of Riley's conviction.
The attack was carried out by Jason Harrison, 29, of Princes Road in Lowestoft, who admitted his guilt and was jailed for four years.
Prosecutors in the original trial told the jury Riley, of Raglan Road in the town, paid Harrison £500 to carry it out.
But Nigel Power QC told the Court of Appeal in London that Harrison had made a deal with the Crown Prosecution Service which was not known about by Riley's defence team.
As a result, Harrison was not cross-examined by Riley's lawyers about the agreement, the court heard.
Mr Power argued this undermined the safety of Riley's convictions as jurors might have concluded Harrison was lying to get a lighter sentence if they had heard about the deal.
The barrister said Riley had believed he had "no option" but to abandon an earlier appeal bid.
The appeal court judges agreed Riley should be given a fresh chance to mount an appeal, but warned he would face an uphill struggle to convince the court his convictions should be overturned.
Lord Justice Gross also refused an appeal against Riley's sentence, saying it was "entirely warranted".
Riley was found guilty of false imprisonment, conspiracy to apply a corrosive liquid and conspiracy to cause grievous bodily harm with intent.