Stowmarket man detained after three shots fired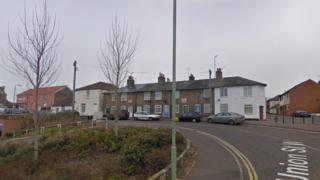 A man has been detained by police after a gun was fired in three separate incidents in Suffolk.
A window at a house in Union Street West in Stowmarket was damaged on Saturday by "ammunition discharged from a low-powered weapon", police said.
Minutes later, a car windscreen and a car window were shattered in separate incidents in Navigation Approach and Gun Cotton Way.
A 33-year-old local man has been detained under the Mental Health Act.
Police say they have recovered a BB gun they believe was used in all three incidents.
The man was held on suspicion of discharging a firearm in a public place, criminal damage and driving a vehicle whilst disqualified. He was bailed until April.
No-one was injured.