'Traditional' design unveiled for Ipswich revamp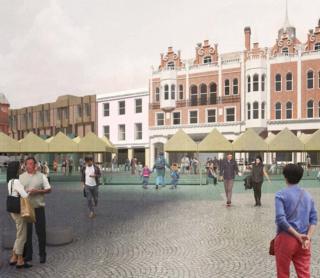 Lavish plans for a tower in the centre of Ipswich have been dropped in favour of a water feature and sculpture.
The new vision has been unveiled as part of £3m plans to transform the town's Cornhill.
It had previously been described as a "bit shabby" by former Marks & Spencer boss Sir Stuart Rose.
Ipswich MP Ben Gummer said the latest design was "exceptional". Work on the scheme is due to start in January 2018 and be complete by Christmas.
LIVE: Updates on this story and other Suffolk news
The new plans were completed after widespread consultation.
A previously selected vision proposed levelling the Cornhill, which is on a slope, by using a large ramp.
It also featured a "delicate steel and glass" tower in front of the town hall.
Feedback given favoured a "more traditional design".
The design, drawn up by Belfast-based architects Hall McKnight, will go before planning officers at Ipswich Borough Council in the spring.
Mr Gummer said: "It's an exceptional design, very beautiful.
"It's a significant improvement on the previous design, something more refined than the previous suggestion."
He added: "I think most people will really appreciate what we're doing here. Retailers will want to come to the town even more than they are at the moment because we are investing in the town centre."
The project is being funded by the New Anglia Local Enterprise Partnership, Ipswich Borough Council and Suffolk County Council.
A planning application will be registered this month.