Petrol station fire on A11, Suffolk 'quickly contained'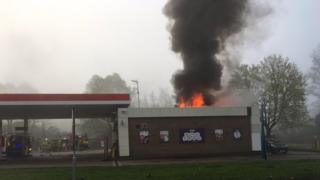 A fire at a petrol station was quickly prevented from spreading, Suffolk Fire and Rescue Service has said.
Crews were called to Esso at the A11 Fiveways Roundabout, Barton Mills near Mildenhall at about 07:00 BST.
The fire, in the shop and payment area, was reported as having started in a store room refrigerator.
Area Fire Commander, Nigel Vincent, said the first crews to arrive contained the flames and stopped the supply of petrol to forecourt pumps.
He said: "They isolated the forecourt, which means cutting the electricity supply, rendering the pumps unable to draw petrol from the tanks underground.
"At the moment, the cause has not been firmly established and that will be the subject of an investigation either on Saturday afternoon or on Sunday."
Police advised drivers to avoid the A11 and the dual carriageway was closed for nearly two hours.
Highways England said one lane southbound would remain closed for "ongoing work at the scene".