Thick gorse near Southwold golf course catches fire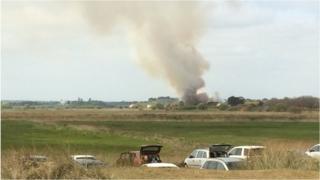 A large fire has broken out in thick gorse close to a golf course on the Suffolk coast.
The flames at Stoney Path in Southwold have spread and about 5,300 sq ft (500 sq m) of shrubbery is alight, the fire service said.
Crews from 10 engines are at the scene in York Road and a plume of smoke can be seen for miles around.
A fire service spokesman said the flames have been fanned by a strong sea breeze.
For more fire pictures and other stories, visit BBC Local Live: Suffolk
About 50 firefighters are bringing the blaze in dry undergrowth under control and crews are expected to be at the scene for some time.