Lowestoft house blaze victims die in hospital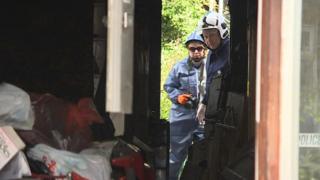 Two men have died after being rescued from a blaze at a house, police said.
The fire broke out at the house in Stanley Street, Lowestoft, just after 01:00 BST, according to Suffolk Fire and Rescue Service.
Attempts were made to revive one victim at the scene before both were taken to the James Paget hospital, where they died a short time later, Suffolk Police confirmed.
It took 20 firefighters two hours bringing the blaze under control.
Area commander Ian Bowell said crews forced their way through the glass front door and a ground floor window to rescue the victims, aged 60 and 61.
One person was found in the hallway and another in an upstairs bedroom.
Suffolk Police said the fire is not thought to be suspicious and neither of the victims has been formally identified.
Neighbour Brenda Durrant dialled 999 when she woke up just after 01:00 and could smell smoke.
"I looked out the bathroom window and all the bottom part of the kitchen window was alight," she said.
Mrs Durrant said one of the occupants uses a wheelchair and the house, which had not been maintained for many years, "was full of cardboard boxes".
Another neighbour Christine Bates, who knew the men, said: "It was an accident waiting to happen. There was no order in the home with a lot of rubbish piled up."
Cdr Bowell said preliminary inquiries "led them to believe the fire started in the kitchen".