Ipswich traveller site killings: Teenager found guilty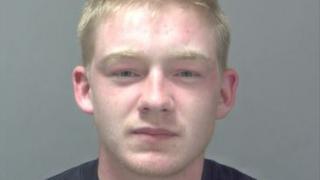 A teenager has been found guilty of killing two men at a travellers' site.
The Old Bailey jury convicted Nelson Smith, 18, of murdering Barry Street, 32, at West Meadows, Ipswich.
He was found guilty of the manslaughter of Nathan Oakley, 18. He had been charged with murder but the jury returned a verdict of guilty of manslaughter due to a lack of intent.
Smith denied the crimes and claimed he acted in self defence. He will be sentenced on Friday.
LIVE: Updates on this story and other Suffolk news
Smith, of West Meadows, Ipswich, was found not guilty of possessing a "bladed article".
During the trial, it was heard a row had broken out at the travellers' site.
Mr Street had smashed a caravan window with a can of Red Bull which prompted a violent confrontation between the partner of Smith's father and Mr Street's partner, it was heard.
A post-mortem examination revealed Mr Street had wounds to his back and neck.