Pleasurewood Hills theme park stolen mascots returned as 'fly-tipping'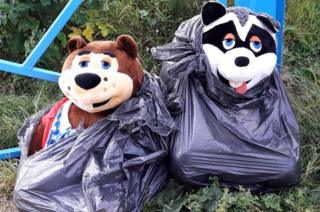 Staff at a leisure park are celebrating the return of two "beloved" soft toy mascots stolen earlier this week and mysteriously returned overnight.
Woody Bear and Ronnie the Raccoon have been at Pleasurewood Hills in Lowestoft, Suffolk since it opened in 1983, but were stolen on Wednesday.
On Friday staff found two large bags near the main gate. "We thought it was fly-tipping, but then a furry ear popped out," a spokeswoman said.
The mascots were unharmed, she added.
Marketing manager Kate Wood appealed for their return on Thursday and was "overwhelmed" by the support the park received, she said.
"People were putting selling alerts all over the internet, but we really didn't expect to get them back so soon."
The mascots were stolen from a display in the park's gift shop, and although there was CCTV of the theft, the park said no further action would be taken if they were returned.
"It worked," Mrs Wood said.
"We found two big bags dumped by the front gate and inside were Woody and Ronnie.
"We're delighted to have them back - and we gained two bin bags in the process."
The mascots are the only ones in existence and were created specially for Pleasurewood Hills, which celebrates its 35th year in 2018.
The park is one of the most popular attractions in the east of England with more than 200,000 visitors a year.