Ipswich Town's Kevin Bru given second driving ban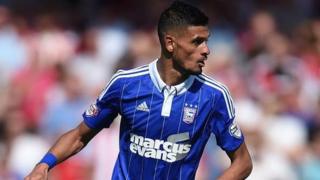 A footballer has been disqualified from driving for a year after his car was spotted speeding while he was already banned from the roads.
Kevin Bru, 28, told police he was not driving the car when it was filmed speeding between Stratford St Mary and East Bergholt in August.
But the Ipswich Town midfielder failed to identify who was behind the wheel.
He admitted three offences of failing to give officers information identifying the driver of his vehicle.
LIVE: Updates on this and other Suffolk news
Ipswich Magistrates' Court heard the Paris-born Mauritian international was handed a six-month ban in April for the same offence, which was replaced with a 12-month ban at the Suffolk court.
Neil Saunders, representing him, said he had "put his head in the sand".
"All he can do is apologise. It was not malicious. It was naivety," he said.
Bru, of Hazel Rise, Claydon, was also fined £1,000 and told to pay £300 in court costs.