Former Suffolk Police detective jailed for coaching suspect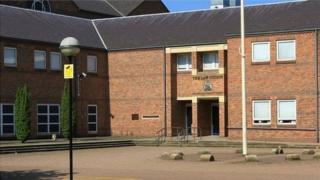 A former police officer has been jailed for 28 days for intending to pervert the course of justice.
David Phelps, 42, of Lowestoft, was sentenced after he was convicted earlier this month of trying to tell a man what to say when he was arrested in connection with a drugs offence.
Phelps was a detective with Suffolk Police but was sacked for gross misconduct.
Norwich Crown Court heard that Phelps had separated from his wife.
'Not malicious'
Kevin Baumber, mitigating for Phelps - who became a detective constable in 2012 and was stationed at Leiston and then Lowestoft - told the court that the offence was "not malicious or sinister".
"We have here a busy officer who lacked judgement trying to get the job done," he said.
Mr Baumber added: "There is nothing he more regrets in his life. He feels he has let his family and colleagues down."
"A custodial sentence should not be deemed inevitable," he said.
The court heard he had two children and was looking after his elderly mother after the recent death of his father.
Passing sentence, Judge Anthony Bate said there was "no suggestion of a corrupt motive".
"You were just trying to save time," he said.
Judge Bate noted that Phelps had been dismissed and reminded by the chief constable that the core values of the police were "honesty and integrity".