Police arrest 15 in Ipswich drugs crackdown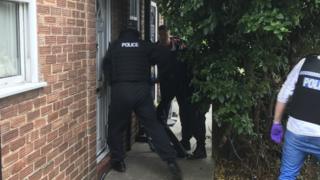 Fifteen people have been arrested and 11 warrants executed during raids targeting drug dealers in Ipswich.
Six teams of Suffolk Police officers used warrants at houses and flats across the town from 07:30 BST to "catch people when they're unaware".
At one flat, three underage girls were found inside when one of the suspects jumped from a balcony and ran off.
Assistant Chief Constable Rachel Kearton said drugs had been affecting Ipswich "for some time".
"We are doing what we can, as quickly as we can, to keep it under control," she said.
At one property in the Stoke Park area of town, officers found an ounce of what was thought to be uncut heroin, with a possible street value of £1,200 to £1,500.
One man was arrested and taken to a police investigation centre for questioning on suspicion of being concerned in the supply of Class A drugs.
"It's good to take that sort of thing off the streets," said Det Supt Craig Powell, who was involved in the raid.
The police helicopter was used to track another suspect who fled the scene as police forced the flat's front door open.
ACC Kearton said the police wanted to make sure young people getting involved with the drugs trade "don't get sucked up into that world".
"Suffolk is an incredibly safe place to live," she said. "Ipswich is our largest urban area, but it's not that large in comparison to nearby places.
"We absolutely depend on our communities telling us what's going on, next door to them or upstairs from them.
"Suffolk Police aim to have minimum impact on the community and maximum impact on the property."