Sneaky seagull breaks in to Ipswich police station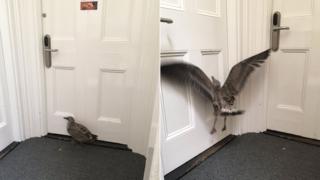 A police force that warns people about leaving their doors and windows open had an unexpected visit from a sneaky seagull after doing exactly that.
The baby bird flew into Ipswich police station after a door was left ajar.
Officers posted on Twitter: "In the warm weather we advise against leaving doors open to try and prevent intruders. We left ours open and had a little visitor."
An officer who looks after injured birds was drafted in to capture it.
People joked online that the officers were "gullible" for leaving the station door open.