'Monitoring delay' led to boy's death at Portland Hospital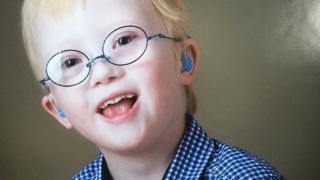 A seven-year-old boy died at a private hospital after a sleep apnoea attack was not spotted because of a lack of monitoring, a coroner ruled.
James Dwerryhouse, of Suffolk, died last August, a day after an operation to fit a colostomy bag at the Portland Hospital in Marylebone.
A serious incident report found the equipment monitoring him overnight was turned off for almost three hours.
The coroner Dr Shirley Radcliffe said the apnoea attack was not recognised.
Recording a narrative conclusion, Dr Radcliffe gave her deepest condolences to the family for losing their "beautiful son".
Stephen Cachero, a nurse on duty at the time, told the inquest James' father John Dwerryhouse, from Capel St Mary, near Ipswich, had said his son would not settle with all the monitoring wires on.
The nurse said he should have been more firm and insisted the monitoring wires were kept on.
The coroner read out statements about CCTV footage which showed Mr Dwerryhouse arriving at 01:11 BST.
The inquest was also told that at 01:15 BST the monitor was taken off and at 02:04 BST Mr Cachero went for a break.
Mr Dwerryhouse left the room at 02:57 BST after settling his son.
At 03:48 BST the nurse returned from his break and at 04:18 BST the emergency bell was pulled.
Mr Dwerryhouse told the inquest he would not have told staff to remove the monitors.
Resident Medical Officer Konstantinos Dimitriades told the hearing he was unable to answer the parents' question as to why James had not been attached to monitors.
"There was a period of time where there was no data from the monitor," said Dr Dimitriades.
James suffered from numerous health conditions including sleep apnoea, which can cause life-threatening stoppages in breathing.
He had been in hospital for an operation to create a colostomy bag.
The operation was a success but he was later found unresponsive in his bed.
In a statement released by the Portland Hospital following the inquest, a spokesman said: "Our heartfelt sympathies are with James' family. We are deeply saddened by what happened.
"We have investigated this fully, and have taken action to reinforce training and awareness of the policies in our Intensive Care Units.
"We have also referred this case to the Nursing and Midwifery Council for its regulatory investigations."