Ipswich 'pigsty' pig house back on market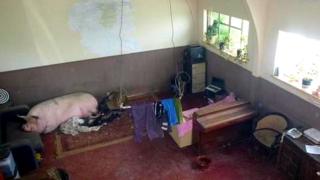 A man who bought a house which was sold with a pig in the estate agent's photos has renovated it despite frequent visits from the animal, and put it back on the market - without the porker.
Pog the 30-stone pig lived in his owner's Ipswich home until she sold it to Alex Robertson in 2014.
But Pog was not keen to leave, said Mr Robertson, who is now selling up.
"They only moved next door and Pog kept coming back and bashing on the door. I used to have to hide," he said.
When the house, off Britannia Road, was put up for sale three years ago the estate agent accidentally published photos showing the pig sleeping on a pile of clothes in the living room.
But the picture of Pog - a cross between a large white, Gloucester old spot and a Duroc - did not put off builder Mr Robertson, who bought it for £110,000.
"When I got the keys Pog was still saying goodbye to the house," he said.
"His owner came back later to say she'd left some chicken nuggets cooking in the oven, and could she please have them. So I wheeled out the entire cooker."
However, that was not the end of Pog, who moved with owner Kathy Thomson to a shed on adjacent land.
"He kept coming back home," said Mr Robertson.
"He'd break through the gate and smash the front door with his snout. There's not much you can do about 30 stone of pig, so I'd hide."
Pog continued to "visit" and on one occasion went for a wander around Ipswich, causing a traffic jam.
His legacy was "a bit of a pigsty", Mr Robertson added.
"There wasn't just Pog poo. It was absolutely rancid. In one room there were 12 pigeons."
However, after weeks of cleaning Mr Robertson began renovating and remained on good terms with Ms Thomson and her pig.
"Once she asked me if I could feed Pog his Christmas dinner as she was away."
However, Pog died in March, Mr Robertson said.
Pog's completely renovated former home is now on the market for £275,000.