Pakefield cliff fall woman 'was under influence of alcohol'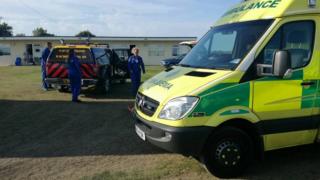 A woman "under the influence of alcohol" was injured after falling when attempting to climb down a cliff, coastguards said.
Crews from Lowestoft and Southwold were called to the incident near Pakefield, in Suffolk, on Monday.
Coastguards said the woman suffered suspected spinal injuries when she fell more than 25ft (7m) to the beach.
Emergency services stabilised the woman and took her to the James Paget University Hospital in Gorleston.
A spokesman for the Lowestoft and Southwold coastguard team said: "A female... under the influence of alcohol was attempting to climb down the cliff face and in doing so fell over 25ft (7m) to the beach below."
He said the woman was suffering from a "suspected spinal condition".