Sudbury care home fined for 'failings' after resident death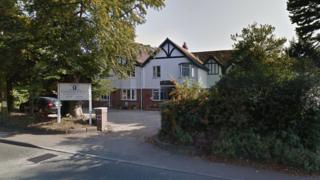 A care home provider has been fined for breaching health and safety regulations which led to the death of an 89-year-old woman.
Freda Cracknell died in November 2013, nine days after she fell while being hoisted at Chilton Croft Care Home in Sudbury, Suffolk.
Chilton Care Homes Ltd, which runs the home, pleaded guilty at Ipswich Crown Court.
It was ordered to pay a £60,000 fine and £50,000 in costs.
Updates on this and other Suffolk news
A spokesman for Chilton Care Homes Ltd said it did not want comment on the case.
The court heard Ms Cracknell was being hoisted from her bed to a wheelchair when she fell.
Concerns about her safety had been raised prior to her death, it was heard.
'Clear message'
Victoria Fletcher, from the Health and Safety Executive, who was the investigating officer for the case, said she discovered "significant failings" when she visited the Newton Road care home.
She said the home did not have an adequate policy in place, in particular with manual handling.
Ms Fletcher said the prosecution "sends out a very clear message" to other care home providers.
"This is an opportunity for them to review their procedures and practices in regards to manual handling," she said.
"Sadly this isn't the first and it won't be the last time where someone is injured because practices aren't followed."
Since Ms Cracknell's death, the Care Quality Commission has inspected Chilton Croft Care Home several times and they are now registered as a "good" care provider, said the HSE.