Great Blakenham scrapyard fire investigation under way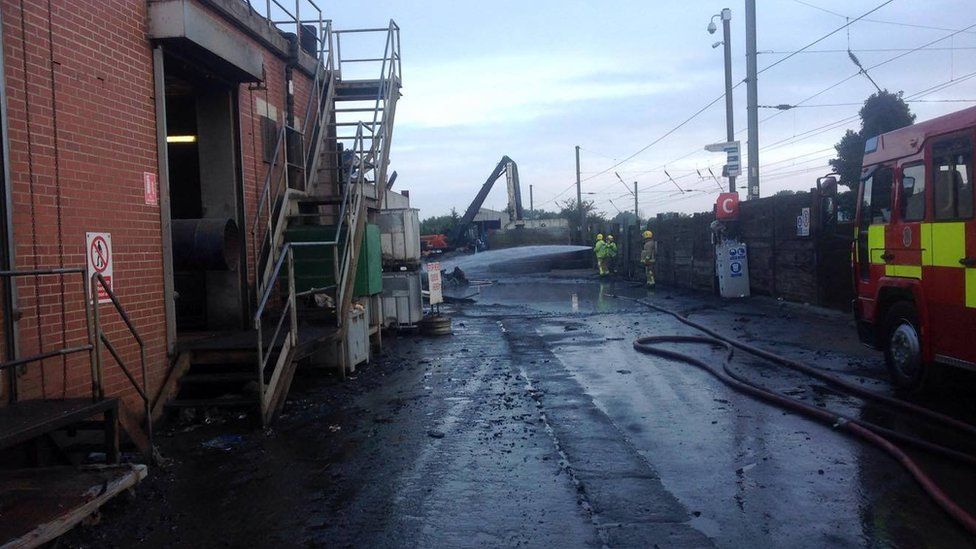 A major fire which saw about 100 tonnes of metal ablaze could have been caused by a battery, the fire service said.
More than 60 firefighters worked overnight and crews are still at the scene. No-one was hurt.
An investigation is under way but the cause of the fire is not thought to be suspicious.
Ian Bowell, area commander for Suffolk Fire and Rescue Service, said: "It is possible it could be battery, something that's come in with the scrap metal that hasn't been picked up.
"It's a risk with the scrap industry that we work closely with to try to keep as low as possible but it can happen."
He said there was 24-hour surveillance at the site and fire investigators will be studying the CCTV footage with Sackers.
At the height of the blaze, the plume of smoke rose up to 30ft (9m).
Mr Bowell said 24 crews had been sent to the site since the start of the blaze.
Train services were also affected as the scrap metal recycling site is close to the Norwich to London rail line.
"Popping and banging" could be heard as the fire engulfed tyres.
People were asked to avoid the area and a cordon was set up around the site.
Mr Bowell said: "Weather conditions were on our side and the smoke drifted away from the houses."
Related Internet Links
The BBC is not responsible for the content of external sites.