Ipswich man sentenced for firing starting pistol at Cardinal Park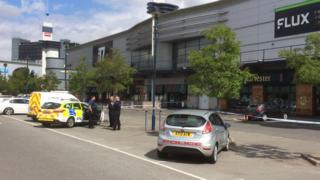 A man who fired shots from a starting pistol at a busy entertainment park has been handed a suspended jail sentence.
Alban Shehu, 22, from Ipswich, fired blank cartridges from the gun at the town's Cardinal Park at about 03:00 BST on 14 July.
Ipswich Crown Court heard he did it to deter violence from a group who had been in an altercation with one of his friends in the Unit 17 nightclub.
Shehu was sentenced to 16 months in prison, suspended for two years.
He had admitted firing an imitation firearm at a previous hearing.
During mitigation it was heard it was "totally out of character" and he was a man of "exceptional character".
The court heard one of his friends had been involved in an argument inside the club, and there was "pushing and shoving".
Shehu stepped in and calmed things down before leaving with his friends.
They then got into his car and drove around the town for 20 minutes before returning to Cardinal Park, it was heard.
The court was told Shehu got the pistol out of the boot of his car and it was used when the same group had left the nightclub and started arguing with his friends again.
'Terrifying experience'
It was fired to the ground and not used with the intention of harming anyone, it was said.
Witnesses reported hearing three to five gunshots and being "frightened".
There were about 80 people hanging around outside the nightclub at the time, according to the doorman's statement read at court.
Judge David Goodin said: "It was a terrifying experience for those on the wrong end of it."
He sentenced Shehu to 180 hours of unpaid work and banned him from leaving his Reynolds Road address from 21:00 to 06:00 for 12 weeks.