Ipswich Arts Centre seeks new board members to 'boost' project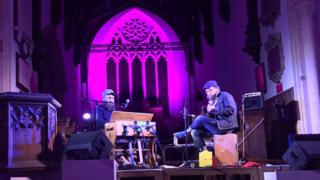 A community group behind plans to open a dedicated arts centre in Ipswich hopes to boost fundraising efforts by appointing new board members.
The Ipswich Arts Centre project began in 2014, but only £8,000 of the £54,000 needed has been raised.
A spokeswoman for the centre, at the former St Clement's Church, said new volunteers were being recruited.
"It is hoped that the changes will boost the pace of the project's development and fundraising," she said.
St Clement's Church, on Star Lane, dates back to the 15th Century, but has been closed since 1979.
Plans for it to be turned into an arts centre were announced in May 2014 and two years later Ipswich Borough Council, which owns the building, approved a change of use - allowing it to operate as a pop-up venue while fundraising continued.
In October 2016, gig-goers had a glimpse of the future, when the Arts Centre hosted its first musical event as part of the SPILL Festival.
But a year on from this, the community interest company behind the project says one of its founding directors, Simon Hallsworth, is stepping down.
"As a result, the team will undergo a restructure, with new directors and volunteers being recruited, bringing additional resource and expertise," a spokeswoman said.
The arts centre wants to become a permanent space for music, dance, film and art, but needs to raise £54,000 so it can meet the requirements set by the borough council.
New floorboards are needed, along with toilets and electrics.
Once it is open, further fundraising would be required to fully renovate the former church.
The spokeswoman said a series of activities and a crowdfunding campaign had been planned for next year.