Four charged in Southwold port people-smuggling inquiry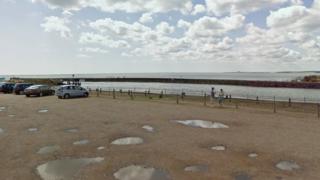 Four men arrested as part of a human trafficking inquiry have been charged with people smuggling offences.
The men were arrested after a yacht from the Netherlands with 19 Ukrainian migrants on board, arrived in Southwold, Suffolk, on 15 October.
Ukrainians Yuril Dzhuraniuk, 26, Yupi Karakin and Mykhailo Riok, both 27, and Yevhenii Vasilikov, 30, are charged with facilitating illegal migration.
They are due to appear at Blackfriars Crown Court, London, on 14 November.
Border Force officers on board the coastal patrol vessel Alert, together with National Crime Agency (NCA) officers detained the yacht after it reached the port in Southwold.
Two suspected crew members and nine migrants were arrested by NCA officers.
The other 10 migrants were later found in a vehicle that was stopped by Suffolk Police officers as it approached Ipswich.
The migrants, together with two drivers, were arrested for immigration offences.
The 19 migrants, consisting of both men and women, have now been detained by Immigration Enforcement.
In a statement, the NCA's Regional Head of Investigations, Brendan Foreman, said: "The involvement of Border Force, Immigration Enforcement and Suffolk Police was crucial to the success of this particular operation and to ensuring the safety of those at risk."