Ed Sheeran appeal girl finds stem cell donor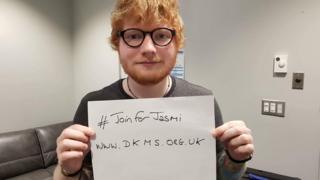 A stem cell donor has been found for an eight-year-old cancer patient after a high-profile campaign backed by pop star Ed Sheeran and other celebrities.
Jasmi Lindberg-Cooke, from Suffolk, has had acute lymphoblastic leukaemia for three years.
She urgently needed to find a matching blood stem cell donor to give her the best chance of survival.
Her mother, Rena Cooke, said the family was "over the moon" that a donor had been found.
"Jasmi has been through so much but still manages to keep smiling and keep us all laughing," said Ms Cooke.
However, she said her daughter still had a tough road ahead over the next few months.
No date has yet been set for the transplant.
Blood cancer charity DKMS said thousands of people signed up to its registry after Suffolk singer Sheeran posted a picture online of himself with the message "#JoinforJasmi".
The campaign was also backed by other musicians, including Adam "Ad-Rock" Horovitz from the Beastie Boys and former Nizlopi duo John Parker and Luke Concannon.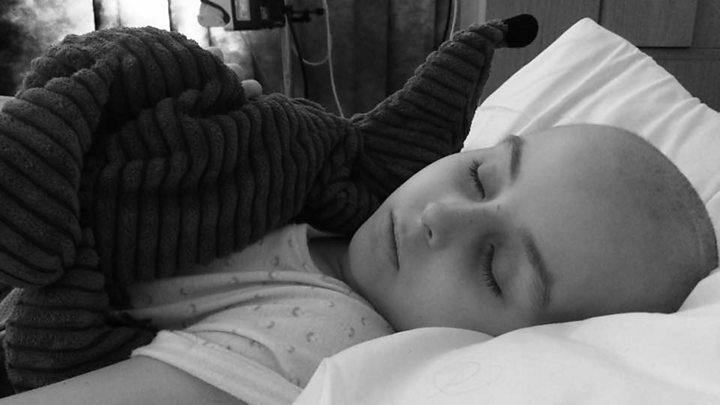 Jasmi, who enjoys playing the piano, fashion and singing her favourite songs, will undergo several treatments to make sure her body is ready for the transplant to take place.
According to Cancer Research UK, acute lymphoblastic leukaemia is a type of blood cancer that starts from young white blood cells called lymphocytes in the bone marrow. It is most often diagnosed in young people.
Lisa Nugent, head of donor recruitment at DKMS, said about 2,000 people living with blood cancer are searching for a lifesaver.
Ed Sheeran has been contacted for comment.