'Draconian' dog lead plans dropped in Suffolk Coastal public areas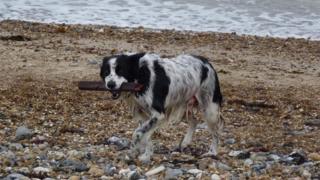 A plan to fine dog owners for letting their pets loose on grass verges, churchyards and greens, described as "draconian" when they were proposed, have been dropped.
The plan was one of seven measures to address anti-social behaviour proposed by Suffolk Coastal Council.
By introducing public space protection orders, the council would have the powers to fine owners £80 for breaches.
The council abandoned the plan after responses to a public consultation.
Conservative MP Therese Coffey who described the proposals as "somewhat draconian" has been contacted for a comment.
Of the remaining public space protection orders, three received wide support during a public consultation - the exclusion of dogs from children's play areas, the exclusion of dogs from a specified area of Aldeburgh beach, and a requirement for owners to clean up after their dogs in all public open spaces.
A decision about dogs on leads at Bawdsey Beach during the summer months, to protect ground nesting birds, has been put on hold, and there will be further consultation for Felixstowe beach.
Controls at Landguard Point Nature Reserve at Felixstowe are recommended for approval, when councillors meet to discuss all the proposals, on 7 November.
Caroline Kisko, the Bury St Edmunds-based secretary of the Kennel Club, said it believed restrictions on walking dogs on beaches were "only acceptable if they are only for certain areas of the beach, are time bound and seasonal".
She said they would support a "more relaxed" approach to dog restrictions that does not penalise responsible dog owners.