Corrie Mckeague family split over police report into search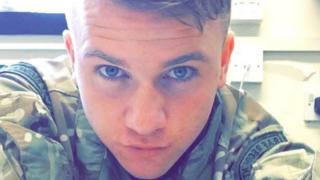 A review of the police search for missing airman Corrie Mckeague has split opinion between his parents.
The gunner was 23 when he vanished after a night out in Bury St Edmunds in September 2016. An extended search for his body at a landfill site near Cambridge is due to end this month.
Mr Mckeague's father said the family had to accept there were "no other reasonable lines of inquiry".
But his mother claimed the report team was not given all the facts.
Corrie Mckeague: The mystery of the airman who disappeared
Corrie Mckeague's body has never been found but police believe the gunner, based at RAF Honington, climbed into a waste bin in Bury St Edmunds and was taken away by dustcart.
Officers believe he ended up at the landfill site at Milton, which is currently being searched for a second time.
That search is expected to end before Christmas.
A report into the search, carried out by the East Midlands Specialist Unit, described some of the officers' work in the investigation as "exemplary".
The report, now released to the BBC, was sent to the force in October but never made public.
Speaking about the report, Corrie's father Martin Mckeague said: "As a family whose son is missing, we certainly don't want to believe there are no longer any reasonable lines of inquiry, but it's true we have to accept that.
"That review has concluded that there are no other reasonable new lines of enquiry in the investigation into the disappearance of my son Corrie."
However, Corrie's mother Nicola Urquhart, who is divorced from Martin Mckeague, said: "I sadly have issues with this report.
"Some of the lines of inquiry I do not feel have been investigated thoroughly," she said.
Significant chunks of the document have been redacted, including large portions dealing with an error in the weight of material carried on a bin lorry which collected waste from the area in which Mr Mckeague was last seen.
Mrs Urquhart said a "major fact concerning the weights of the bins was incorrect".
"That could have had an impact on recommendations as to how this investigation has been carried out."
The East Midlands Specialist Unit review made 14 recommendations including viewing CCTV from a wider area.