Stowmarket deaths: Husband killed wife then himself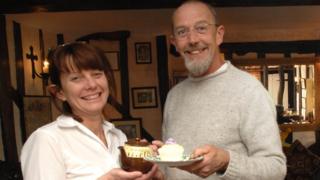 A man killed his wife and then hanged himself weeks after a note alluding to his wife having an affair was posted through the door, an inquest heard.
The bodies of Sarah and Richard Pitkin were found at a house in Stowmarket, Suffolk, on 26 February.
Mr Pitkin, 65, was found hanging in the bedroom. His wife's body was on the bed with multiple stab wounds.
Suffolk's senior coroner Dr Peter Dean concluded Mrs Pitkin, 58, was killed unlawfully.
He said Mr Pitkin had killed himself.
The inquest in Ipswich heard the couple had been married for 37 years and had four children together.
Det Supt David Cutler told the hearing the anonymous note was posted through the family door in January.
It alluded to Mrs Pitkin having an affair with a local man.
Mrs Pitkin moved out to live with her mother after the note was received, he said.
Det Supt Cutler added: "The arrival of an anonymous letter appears to have been the catalyst for the rapid deterioration of the relationship."
It was heard the couple's bodies were found after their son found a note at the Stowupland Street house.
In a statement, the couple's son said that hours earlier Mr Pitkin seemed fine and they were "laughing and messing around as normal".
He said his father had told him to "make himself scarce" because Mrs Pitkin was coming round to discuss finances.
Coroner Dr Dean said: "It's clear looking at all of the evidence that Mr Pitkin acted in a manner that was not spontaneous.
"He had thought through his actions before undertaking them."
Post-mortem examinations recorded Mrs Pitkin, who worked at the St Elizabeth Hospice charity shop in Stowmarket, died of multiple stab wounds to the neck.
Carpenter Mr Pitkin died of hanging.