RAF Mildenhall alert: Suspect 'detained under mental health laws'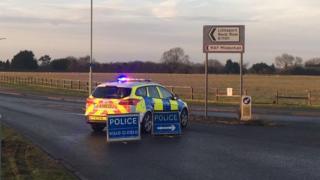 A 44-year-old man arrested at a US Air Force base in Suffolk has been detained under mental health laws.
The man was arrested on suspicion of criminal trespass and criminal damage on Monday.
The suspect - who police say is British - was detained after a car went through a checkpoint at RAF Mildenhall.
The base was temporarily put into lockdown as Suffolk police responded to what it described as a "significant incident".
RAF Mildenhall said the base had returned to "normal operations".
Suffolk Police said Monday's incident was being treated as trespass, not terrorism.
An internal inquiry by the US airbase into why guns were discharged will be held, said police.
Officers were notified about a breach of security at about 13:40 GMT.
Supt Kim Warner, from Suffolk Police, said the man, who suffered cuts and bruises, was arrested after a "short pursuit" and his vehicle was stopped by US security services.
He said: "Shots were fired by US security, I don't know how many, but I do know that shots were fired.
"It would be fair to say some of the minor injuries were probably as a result of him being apprehended."
Supt Warner said there was "no obvious motive at this stage", adding there was no wider threat to the public or the base, and police were not looking for anyone else.
RAF Mildenhall has about 3,200 military personnel, with 400 to 500 UK civilian staff employed there.
It is home to a fleet of refuelling aircraft and had previously been a potential target for a terror attack against US military personnel.
In May 2016, Junead Khan was given a life sentence for preparing terrorist acts after a court heard how he used his job as a delivery driver to gather information about the base.
The US Air Force plans to move its operations to a base in Germany.