Babergh Council leader Jennie Jenkins quits over merger plans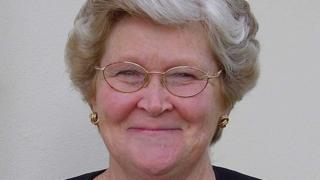 The leader of a council under fire for plans to merge with another local authority has stepped down ahead of a vote to sack her.
Jennie Jenkins quit as head of Babergh Council in Suffolk on Tuesday before a motion to have her removed from the council was due to be raised.
Opposition councillors had objected to plans for the council to merge with Mid Suffolk Council without a referendum.
The Conservative leader had refused to guarantee referendum approval.
At the start of the full council meeting in Ipswich, Mrs Jenkins said: "It is with great regret and huge sadness that I have decided to stand down as leader of the council with immediate effect.
"It is extremely disappointing some councillors have felt the need to bring the third paragraph of the motion on the agenda, especially as I have made no secret of my intention to stand down as leader of the council in a couple of months."
Babergh and Mid Suffolk councils already share a chief executive and have merged staff and services over the last six years.
However, the idea to replace both councils and create a single larger local authority was rejected by voters at a referendum in 2011.
Since then Suffolk Coastal and Waveney District councils have agreed to merge, while St Edmundsbury Borough and Forest Heath District councils have submitted a joint plan to the government.
It paved the way for Babergh and Mid Suffolk District councils to reconsider the merger, but both have said they were under no obligation to hold another referendum on the issue.
A new public consultation about whether to merge is under way.
Labour councillor Tony Bavington brought the three-part motion at Tuesday's meeting.
A council spokesman said an extraordinary council meeting to elect a new leader would take place on 4 January.