Ipswich Town musical extras sought by New Wolsey Theatre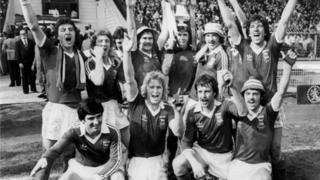 Football fans have the chance to take to the stage to mark 40 years since Ipswich Town's FA Cup victory.
The New Wolsey Theatre in Ipswich will stage Our Blue Heaven in May 2018 to commemorate the 1-0 triumph against Arsenal at Wembley in 1978.
It wants to recruit young male actors, dancers and footballers, aged 17 to 26, from the community for some scenes.
The theatre said those interested did not need to be experienced performers, but needed to be "good movers".
It said it wanted young men who were "committed", "enthusiastic" and "excited at the prospect of being on stage in this celebratory production".
Our Blue Heaven has been written and directed by Peter Rowe, artistic director at the New Wolsey Theatre.
It follows the journey of Ipswich Town FC through the rounds of the FA Cup in spring 1978 to the final on 6 May.
Extras are wanted for "football sequences", which the theatre said would be choreographed to a track from 1978.
It said it would be "played live on stage by our house band - in a stylized way not involving a ball".
Those interested in taking part have been asked to email the theatre or attend a taster session on 9, 16 or 23 January, from 20:00 GMT at DanceEast in Ipswich.