Police overtime payments surge in Norfolk and Suffolk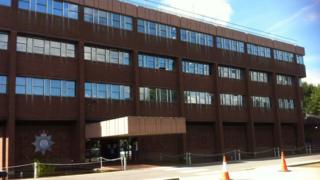 Cuts in police numbers has led to big increases in overtime payments over the past five years in Norfolk and Suffolk, the police federation has said.
Overtime payments in Suffolk increased by 47% from £1.9m in 2012-13 to £2.8m in 2016-17, while in Norfolk payments increased by 44% to £3.6m in 2016-17.
County police federations warned overtime was "officer's goodwill propping up the service".
Police said overtime could be "most cost-effective".
The figures on overtime payments, released under the Freedom of Information Act, found that in 2016-17 Suffolk officers worked 97,149 hours of overtime, while the larger Norfolk force worked 125,411 hours.
Andy Symonds, chairman of Norfolk Police Federation, said the force has been under significant stress since 2010 with austerity so it was not surprising that overtime has increased.
"What we've got at the moment is officers' goodwill propping up the service," he said.
"It can't continue that way. It will get to the point where no-one wants to do overtime and the service will be in a pickle."
Darren Harris, chairman of the Suffolk Police Federation, said: "The increase in overtime is probably correlated to the reduction in police officer numbers."
He said since 2010 about 250 police officer posts had been lost and added that "it is inevitable that if there are less people doing more work the stress is going to be higher".
A spokesman for the Norfolk and Suffolk Police forces said: "Overtime can be the most cost-effective means of dealing with demands outside of day-to-day policing.
"Many events and or incidents that are policed during the course of the year require police resources over and above those that would be required for every day policing."