Harpist Danielle Perrett 'had sex with boy'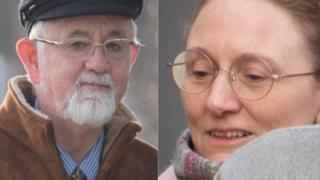 A world-renowned harpist "cuddled up" to a boy and had sex with him before her partner got into bed and indecently assaulted him, a court has heard.
Danielle Perrett, 59, who has given performances for the Queen and several prime ministers, and Richard Barton-Wood, 68, deny a string of charges.
The alleged offences came to light after the complainant confronted the defendants as an adult.
He was aged in his early teens at the time of the alleged abuse.
Prosecuting, William Carter QC said Mr Barton-Wood first met the alleged victim while working as a substitute teacher. The complainant, who cannot be named for legal reasons, was a pupil.
Mr Barton-Wood invited the teenager to come sailing with him, and the boy recalled waking on a boat to find he was being sexually abused, Ipswich Crown Court heard.
'Fell in love'
The alleged victim said this happened on several occasions and that he was also abused by Mr Barton-Wood on camping trips, Mr Carter said.
The court also heard that on a separate occasion Mr Barton-Wood took the boy to a flat with Ms Perrett, and the boy awoke as Ms Perrett undressed and got into bed with him.
Ms Perrett, from Alpheton, Suffolk, then "cuddled up" to the boy and had sex with him, before Mr Barton-Wood joined them in bed and indecently assaulted the boy, Mr Carter said.
"[The boy] describes her as kind and gentle," said Mr Carter. "Young as he was, it seems he fell in love with her.
"He was obviously too young to consent to what was happening. It amounts to sexual abuse of that young boy."
Ms Perrett, who is no longer in a relationship with her co-accused, faces eight counts of indecent assault.
Mr Barton-Wood, from Wymondham, Norfolk, is also accused of eight sexual offences, including six counts of indecent assault.
The trial is expected to last two weeks.