Conservative MP Daniel Poulter set for Westminster return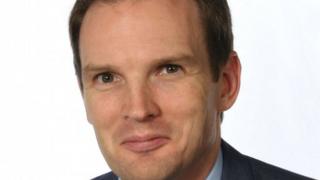 An MP who has been on sick leave amid an internal inquiry over misconduct allegations is poised to make a "vigorous return to Westminster".
Conservative Central Suffolk and North Ipswich MP Daniel Poulter has not voted in parliament since autumn.
The Conservative Party's disciplinary committee is investigating allegations the MP behaved inappropriately towards female colleagues.
Dr Poulter has strenuously denied the allegations.
His office says he is due to resume his Westminster duties, though no return date has yet been set.
"Dr Poulter looks forward to making a vigorous return to Westminster early in the New Year," his spokeswoman said.
A statement from his office released in November said Dr Poulter had placed "all matters relating to the allegations with his lawyers" adding he was "confident" that his party's complaints procedures would "exonerate him of any misconduct or inappropriate behaviour".
The Conservative Party declined to answer questions about the status of its investigation saying the matter was "confidential".