Aspall takeover: Molson Coors 'to invest' in Suffolk site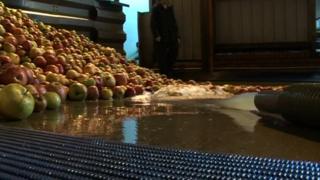 The US brewing giant Molson Coors said it hoped to create new jobs at Aspall cider following its takeover.
The firm has bought the family-run Suffolk producer in what is believed to be a £40m deal.
Phil Whitehead, Molson Coors' UK managing director, said all Aspall's production would continue in Suffolk.
"Our intention is to continue to invest in the brand, the liquid, the manufacturing site and Suffolk - hopefully creating new jobs," he said.
Aspall was founded in 1728 by Clement Chevallier and is based in Aspall, near Debenham, where it employs 127 people.
Many on BBC Suffolk's Facebook page have expressed fears for the Aspall brands.
Lynn P Andrews wrote: "What a shame. I hope all the current staff will keep their jobs and production will remain in Suffolk."
Molson Coors cited its 2011 purchase of Sharp's Brewery of Cornwall, which produces Doom Bar beer, as evidence it would not be tampering with the taste of Aspall or moving production elsewhere.
Mr Whitehead said: "The reason that the products are successful is that it's a tremendous cider. We would be foolish to change that."
Aspall director Henry Chevallier Guild, a descendant of the firm's founder, will remain with his brother Barry as a board adviser.
"For us to continue expanding we need investment to ensure we can keep on making the liquid to the same quality and standard and we're comfortable that's going to happen," he said.
"We can get the plant absolutely world-class."
Tom Stainer, spokesman for the Campaign for Real Ale, said he hoped Molson Coors would "stick to its pledge" to invest in the brand, keeping jobs and production in Suffolk.
"British brewers have shown there is an export market which can be developed, so it may be cider can follow in its footsteps," he said.