'Freezing death' man's brother wants answers over 999 call handling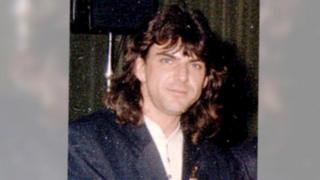 A man who died 18 hours after the authorities were alerted he was at risk should have been checked on, his brother has said.
Tony Barnard, 57, was found dead in freezing conditions by neighbours outside the home in Lowestoft, Suffolk he had been evicted from.
Concerns were raised on 27 December and his body was found the next day.
His brother Jeremy said an apology from the authorities involved in his final hours would not be "good enough".
'Frozen to death'
"I am devastated he died on his own," he said.
"Someone should have gone round to check on him. It's horrible."
The case emerged after Mr Barnard's death was highlighted by an ambulance service whistleblower, with it being suspected he had "frozen to death".
The BBC has obtained a copy of his death certificate, which showed the cause of death was a heart attack, heart disease and colon cancer.
Suffolk Police confirmed it had referred itself to the Independent Office for Police Conduct (IOPC) over its handling of the case.
The matter was also raised at Prime Minister's Questions in the House of Commons after criticism of the response by the East of England Ambulance Service.
Jeremy Barnard told the BBC he wanted someone held accountable.
"I don't think sorry is good enough," he said.
"The police knew he had been evicted. They didn't know if he was ill or whether he was going to cause damage."
However, Mr Barnard said he did not want the ambulance service or police to be "held responsible" for what happened.
His concern he said, rested with the handling of the call.
"The ambulance were phoned and I understand it was talked back to the police and they made the decision not to do anything," he said.
'Sitting outside'
Concerns about Mr Barnard were first raised with social services, who referred the call to the police. Officers then contacted the ambulance service.
It said the call, received at 15:46 GMT on 27 December, was a "report of concerns for a man who was conscious and breathing and sitting outside at an address in Lowestoft".
"We were informed he had no obvious injuries or medical complaint and, following triage, the call was categorised as a non-emergency call not requiring a response," an ambulance service spokesman said.
The father-of-two was found outside in temperatures as low as minus three on 28 December after a second 999 call by neighbours. Mr Barnard was not breathing.
The paramedic rapid response "attended in eight minutes".
Donated bone marrow
Suffolk Coroner's Office confirmed there would be no inquest.
The Independent Office for Police Conduct said: "Our investigation will examine the call-handling and police response to these calls."
Tony Barnard was divorced and turned to drink after set-backs in his life, according to his brother.
More than 30 years ago he donated bone marrow to another brother who was suffering from leukaemia, but it failed to save him.
Three months before he was found dead, Mr Barnard had been evicted from his home after being made bankrupt.