'Roman haul' turns out to be TV show Detectorists prop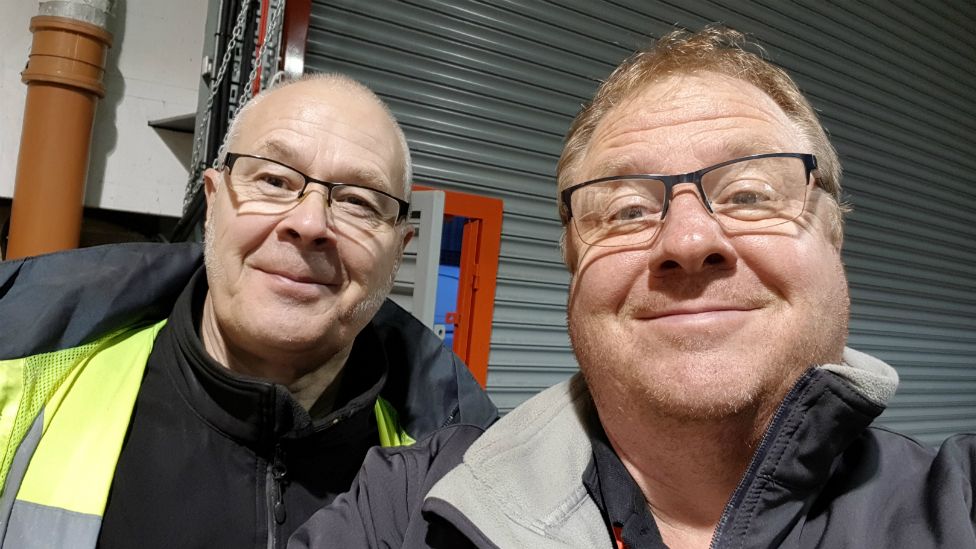 Two men who thought they had unearthed a stash of Roman gold coins had their dreams dashed when they discovered the coins were a prop for a TV sitcom.
Andy Sampson and Paul Adams had been metal detecting in a field on the Suffolk/Essex border when they found more than 50 "gold" coins with pottery.
Mr Sampson said his friend started "shouting and jumping around and dancing" after he found the "treasure".
However, it emerged the fake coins were a prop for the BBC show Detectorists.
Mr Sampson said the pair, who have only been metal detecting for a year, had spotted the farmer ploughing the field last summer, and got his permission to go out one evening to check it out.
"Paul kept running at me shouting, 'Roman gold!' and I thought, 'he's winding me up'," he said.
"He was floating across the top of the field rather than running through it. I wish I'd had a camera."
The pair went back to the furrow and found more than 50 gold coins with pottery, which they believed at the time could have been worth up to £250,000.
Mr Sampson said he immediately began working out how he would spend the money, with plans including paying off the mortgage, buying a new car and going on the trip of a lifetime.
However, he took the find back home and showed it to his neighbour, who was less enthusiastic about it.
Mr Sampson said his neighbour picked up the coins and immediately said "they're not real - there's something wrong with them".
'Got over' disappointment
The pair made some inquiries and found out the farm was being used as a filming location during the summer for BBC Four comedy Detectorists, which stars Mackenzie Crook and Toby Jones.
It emerged the production crew had filmed a tractor pulling a plough through the ground, unearthing the coins as it went.
However, Mr Sampson said, "it had buried some as well", and they were the ones they found.
The men said they had finally "got over" their huge disappointment and it had not put them off the hobby.