Lauri Love: Hacking suspect awaits extradition appeal decision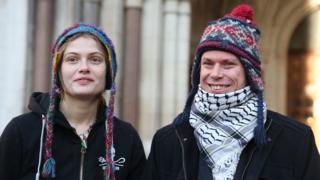 An alleged computer hacker will find out later if he has successfully challenged a ruling that he can be extradited to the US.
Lauri Love, 32, from Stradishall, Suffolk, is suspected of hacking into FBI, US Central Bank and Nasa systems.
Speaking on the BBC's Today programme earlier his father said his son was "very distressed" and "afraid".
Two judges sitting at the High Court in London are expected to give their decision on Mr Love's appeal later.
Lord Chief Justice Lord Burnett and Mr Justice Ouseley heard argument on his behalf during a hearing in November that extradition would not be in the "interests of justice" for a number of reasons.
These included the "high risk" that Mr Love, who suffers from Asperger syndrome, would kill himself.
He also suffers from a depressive illness.
'Justice and humanity'
Authorities in America have been fighting for Mr Love to face trial on charges of cyber-hacking, which lawyers have said could mean a sentence of up to 99 years in prison if he is found guilty.
Mr Love is alleged to have stolen huge amounts of data from US agencies, including the Federal Reserve, the US army, the defence department, Nasa and the FBI in a spate of online attacks in 2012 and 2013.
Edward Fitzgerald QC, for Mr Love, submitted there were "overwhelming reasons of justice and humanity" why any trial should take place in the UK.
He argued it would be "unjust and oppressive" to extradite him because of his severe mental disorders.
'Woefully inadequate'
Speaking earlier to the BBC, Mr Love's father the Rev Alexander Love said: "[Lauri's] very distressed, he's obviously afraid because he has stated on more than one occasion he fears for his life because he doesn't think he could cope with the trauma of being taken away from his family and country, and taken in exile to America."
The Rev Love said he was concerned his son would not get the support he needed if he was jailed in the US, adding "the metal health provision in American prisons, from what I have read, is woefully inadequate compared to ours".
However, he said he was "quietly confident" the High Court would recognise "it would not be an act of justice to send Lauri to America".
"If my son has done wrong he should face the music, my kind of little thing is it should be a British band."
Peter Caldwell, representing the US, said the district judge's conclusion on extradition was "reasonably open to her on the findings of fact she made".
Having identified a high risk of suicide, she [the district judge] "properly assessed whether and how that risk could be managed were the appellant to be extradited".