Suffolk Police v Ipswich Town court case: Force cannot appeal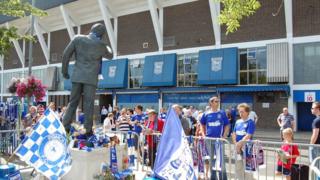 Suffolk Police has been told it cannot appeal against a court decision which ruled it has to pay for policing streets around Ipswich Town's stadium on match days.
The dispute, which could be worth up to £500,000, centres on who pays for keeping order on roads by the Championship club's main turnstiles.
In October, the High Court ruled that the club was not responsible.
The Supreme Court has now said the force has no basis to appeal.
In the original High Court case in 2016, it was ruled that Suffolk Constabulary was entitled to recover costs for officers patrolling Portman Road and Sir Alf Ramsey Way.
But in October, the Court of Appeal upheld the club's view that the High Court judge had misdirected himself on the law.
Michael Beloff QC, representing the club, said during that hearing that about £500,000 was at stake, covering policing bills issued between 2008 and 2013.
'Disappointed'
The police force applied to the Supreme Court to see if it could appeal, but it has been informed by judges that it has no grounds because "the case doesn't raise an arguable point of law".
An Ipswich Town spokesman said: "We are pleased that the matter is closed and that we continue to have a good working relationship with Suffolk Police."
Suffolk Police and Crime Commissioner Tim Passmore said: "We are disappointed with the outcome of this decision from the Supreme Court.
"We will now take some time to consider the implications for the force and once they have been fully assessed in due course we will be in a position to comment further."
Neither side was able to confirm whether any repayment from the police to the club would require another court hearing or not.