Stowmarket Regal Theatre gets £2.5m funding boost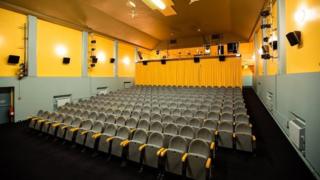 About £2.5m of council money is to be released towards a theatre to provide two new cinema screens, creating up to 20 jobs.
Mid Suffolk District Council cabinet members voted to spend £1.56m on the Regal in Stowmarket, with a further £1m loaned to its owner, Stowmarket Town Council, for the project.
The 200-seat auditorium would have 87 and 57-seat cinema screens added.
Work could begin in early 2019, if planning permission is granted.
The venue, which was built in 1936, has about 63,000 visits a year.
The owner projects that could rise to 114,800 visits, and create between 10 and 20 jobs at the completed venue.
Mid Suffolk's Conservative leader, Nick Gowrley, said: "The Regal has been at the heart of Stowmarket for a long time, not only thanks to its cinema screens but due to its hard work with community theatre groups, dementia-friendly screenings and hosting touring performances from across the country.
"However, this funding is not just about the Regal - it is about investing in the future of Stowmarket by increasing visitor spending in our town by up to £1m a year and creating a score of new jobs."
Designs, including a rearranged layout of the neighbouring Ipswich Street car park, need to be completed and planning permission granted before any work takes place.
The venue survived a threat of closure in 2005, when questionnaires were sent to people in the town asking them if they wanted to keep subsidising it through council tax.