Richard Handley: 'Gross failures' in constipation death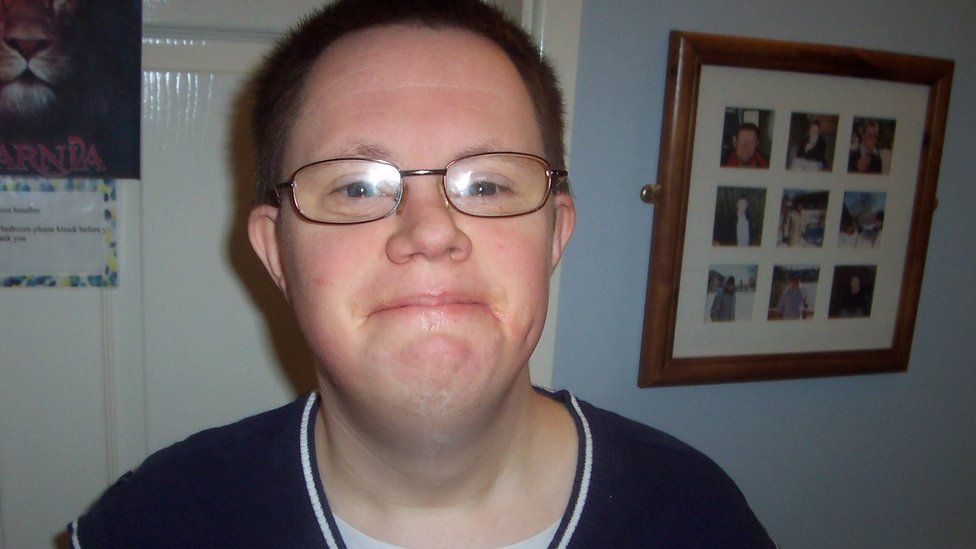 A "missed opportunity" for potentially life-saving treatment contributed to the death of a man from constipation complications, an inquest has found.
Richard Handley, 33, who had Down's syndrome, died at Ipswich Hospital on 17 November 2012.
Some 10kg (22lb) of faeces were removed from his body two days before.
Coroner Dr Peter Dean said there were "gross failures" in spotting Mr Handley was in a critical state after the surgery.
After an 11-day inquest at Ipswich Coroners' Court, Dr Dean said an overall care co-ordinator "would have prevented this from happening" as there were a number of agencies involved in looking after Mr Handley.
Mr Handley's mother Sheila, who gave evidence during the inquest, said outside court she was "disappointed" after the coroner's verdict.
"With hearing about the gross failures identified and missed opportunities spoken of I find it very hard to understand how the coroner didn't feel able to use the word 'neglect' in his conclusion," she said.
"It feels to me, having heard all the evidence, that the level of the failures was such that Richard died because he was neglected. He wasn't given the care he needed to keep him safe."
Chief executive of The Ipswich Hospital NHS Trust, Nick Hulme, said: "I am extremely sorry that we let Richard and his family down in the last 48 hours of his life.
"I want to give my personal assurance that we have learned from this tragedy and improved the care and support we provide for people with learning disabilities and patients whose health is rapidly deteriorating."
Mr Handley died as a result of choking on his own vomit having inhaled gastric contents following complications with surgery.
The coroner said there were missed opportunities to alert more senior staff to his condition.
He had an operation to remove the faecal matter the following day.
Mr Handley was born with moderate learning disabilities and bowel problems and family members said they provided daily laxatives and a high-fibre diet to alleviate his constipation.
He was moved to a care home in Lowestoft in 1999, which was turned into a supported living complex in 2009.
This resulted in changes to his diet and a reduction in monitoring his bowel movements, leading to his constipation worsening.
The coroner said this was the start of a chain of events that led to his death and without them his "death would not have occurred".
Tim Cooper, from United Response, which ran the home where Mr Handley lived, said the organisation "could and should have done better".
"The coroner has concluded today that everyone involved in his care acted in good faith to assist him at all times, but it's clear that we collectively failed Richard," he said.
"We are incredibly sorry for Richard's death. Situations like his are rare but there are lessons for each organisation to learn from and act upon to provide truly integrated support for those with learning disabilities in the future."
Julie Cave, chief executive of Norfolk and Suffolk NHS Foundation Trust (NSFT), said it "fully accepts" the conclusions of the coroner.
She added: "Since the publication of a serious case review in 2015, NSFT has made significant improvements to the services we provide to people with learning disabilities who also experience mental illness."
Mike Hennessey, Suffolk County Council director for adult care, said it had "already taken significant steps to address the recommendations of the serious case review".
He said: "Alongside all organisations involved, we are fully committed to further work to improve the health and social care services provided to people with learning disabilities in Suffolk."
Inquest, the charity which provides expertise on state related deaths and their investigation, worked with Mr Handley's family.
It said "most so called 'natural cause' deaths of people with learning disabilities... are not afforded proper scrutiny and never have an inquest"
It praised the family for their "persistent fight for answers".
Related Internet Links
The BBC is not responsible for the content of external sites.