Sajid Javid signs off plans for two new councils for Suffolk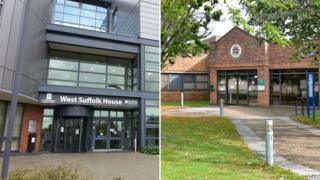 Suffolk looks set to have two new councils in 2019 after the government approved merger plans.
St Edmundsbury and Forest Heath district councils will join together to become West Suffolk while Suffolk Coastal and Waveney will become East Suffolk.
Local Government Secretary Sajid Javid has given the final sign off but the plans are yet to go before parliament.
Council leaders said it was a "truly momentous decision".
The authorities said the new "super district" councils would be up and running in May 2019, following the local elections.
St Edmundsbury and Forest Heath have shared a chief executive since 2011 and have pooled office staff and some services.
Suffolk Coastal and Waveney started working in partnership 10 years ago.
They said they have made more than £18m in efficiency savings and halved their joint workforce in that time.