Compensation claim over 'sonic boom' heard in Suffolk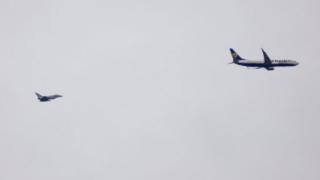 A compensation claim was made after a sonic boom over Suffolk caused by a "hoax" security alert, the Ministry of Defence (MOD) said.
The loud bang, which shook homes across Suffolk on 4 October 2017, was caused by military aircraft.
Typhoon jets were launched from RAF Coningsby to intercept a civilian Ryanair flight.
The MOD said the claim was lodged for damage caused to a roof and window in an "isolated location".
It was received from the "Suffolk/south Norfolk" area, it said.
The value of the claim was not disclosed in the response to a Freedom of Information request by the BBC.
But the MOD said military flying training rules "do not routinely permit supersonic flight" over land in the UK, unless there is an "operational priority".
It said: "Any inconvenience caused to the public is regretted, but this must be balanced against the need to maintain national security in an unpredictable and dangerous world."
People reported hearing what sounded like an "explosion" throughout the county, including in Stowmarket, Leiston, Framsden and Grundisburgh, at 08:35.
The RAF said Quick Reaction Alert Typhoon aircraft safely escorted the Ryanair flight, travelling from Kaunas in Lithuania to Luton, to London Stansted Airport.
Essex Police said nothing suspicious was found.
The force said the hoax call came from Lithuania and it was no longer involved in the investigation.