Metfield farmer's sign warns drivers of 'dangerous' pothole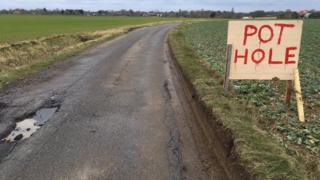 A farmer said he has put up his own warning sign about a pothole because he is fed up with it damaging cars.
Tim Schwier has erected the 3ft (91cm) by 3ft wooden notice beside the large crater on Christmas Lane, Metfield in north Suffolk.
Mike Glaysher, from a nearby garage, said the road was dangerous and was "costing a lot of people a lot of money".
The potholes will be treated this week, Suffolk County Council said.
There are two garages close to the site.
Mr Schwier, who runs one of the garages as well as his farm, said three recovery trucks were called out within five hours on one day and he has come to the aid of people aged almost in their 90s.
Mechanic Mr Glaysher, from the other garage, said on another day he helped two cars within two hours.
Cllr Jane Storey, deputy leader of Suffolk County Council said: "It is normal for there to be an increase in the number of potholes forming in January, February and March every year, due to severe winter weather.
"In the particular case of Christmas Lane, the road was inspected on 14th December 2017, following which the road was closed and repairs carried out. However, the ongoing severity of the winter has meant that more potholes have formed since then on Christmas Lane and these will be treated in the next few days."