Norfolk and Suffolk face battle to retain EU workers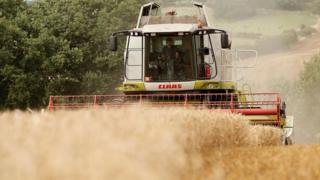 Norfolk and Suffolk face a battle to retain "non-UK national" workers after Brexit, it has been claimed.
A report examining consequences of leaving the European Union (EU) identified challenges and opportunities for the economies of the two counties.
It was commissioned by the New Anglia Local Enterprise Partnership (LEP) and Norfolk and Suffolk county councils.
A government spokesman said it was aiming for a "bold and ambitious economic partnership" with the EU.
The report, compiled by consultants Metro Dynamics, said "thousands of Eastern European workers pick fruit, vegetables and salads" in Norfolk and Suffolk.
"Without access to a ready supply of relatively cheap EU labour and absent desire among UK nationals for agricultural work, farms may find it difficult to locate sufficient work for the season," it said.
The "non-UK EU nationals" might view British labour markets as "less desirable", meaning it is "highly likely" migration from the EU would drop.
Businesses also need to source alternate funding to replace some EU grants, with the report highlighting money given to the Galloper, Sheringham Shoal and Greater Gabbard wind farm projects off the Norfolk and Suffolk coast.
"EU funding plays a supporting role in all of the important sectors in Norfolk and Suffolk," it said.
The report said Brexit also presents opportunities, with a chance to formulate a "regulatory regime" for the UK that could cut "red tape" while "boosting competition and investment".
It said there would be chances for businesses to exploit new markets.
---
Analysis by Andrew Sinclair, BBC Look East Political Correspondent
This is the second report in a week to deliver gloomy predictions for the region post-Brexit. Last week analysis by the Treasury suggested that our economy could slow down by as much as 8% over the next 15 years.
Those who ran the Remain campaign and warned of economic catastrophe are quick to say "we told you so". But the truth is that at the moment no-one knows whether we'll be better or worse off after Brexit.
Economic predictions are hard to make at the best of times. On top of that, no-one knows what our final relationship with Europe will look like. The government talks about it being "deep, special and bespoke" but until it is agreed no one can predict with any accuracy what the impact will be.
So these reports are useful because they flag up potential problems but their authors are in the dark as much as the rest of us.
---
On the construction sector, the report says about 50,000 people in Norfolk and Suffolk are employed in the building trade, which is "highly dependent" on free movement of workers from the EU.
Doug Field, chairman of New Anglia LEP, said: "This comprehensive piece of research highlights some of the possible impacts of Brexit, including challenges for the local labour force and for funding and investment.
"We know that Brexit will have a significant impact and while there are still a number of uncertainties, it is useful to be able to see a fuller picture of how our key sectors may be impacted."
The government spokesman said: "We are seeking a bold and ambitious economic partnership with the EU that is of greater scope and ambition than any such existing agreement.
"After we leave the EU, we will put in place an immigration system which works in the best interests of the whole of the UK.
"There will be an implementation period after we leave the EU to avoid a cliff edge for businesses, and EU citizens already working in the UK will be able to stay."