Ed Sheeran lodges plans for private chapel at Suffolk home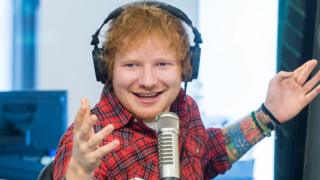 Singer Ed Sheeran plans to build a private chapel on his Suffolk estate.
The 27-year-old, who lives near Framlingham, has submitted a planning application to Suffolk Coastal District Council.
It comes after he announced his engagement to long-time girlfriend Cherry Seaborn in January.
The plans say some of Sheeran's guests have "high profiles" and a "need for discretion" which would not be met at local parish church.
According to the planning application, the chapel would be of made of flint and in a Saxon style with a 14.6m (48ft) round tower.
It will appear as if it has been there for "more than a thousand years", the application says, and will hold a congregation of about 24.
The application states the chapel would be "strictly non-denominational and for spiritual regeneration of both traditional and less traditional types".
It adds: "The applicant seeks to provide both a religious and an ecumenical space in which he, his family and these different people (his guests) can retreat for contemplation or worship in peace and safety from disturbance."
Suffolk Coastal District Council is expected to make a decision on the planning application in April.
Sheeran was granted planning permission for a parking lodge at his home last year.