Historic England approves relocation of Abbey's tennis courts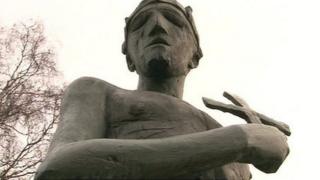 Tennis courts underneath which it is thought England's former patron saint may be buried are to be moved.
St Edmund is thought to have been captured and killed by Danish or Viking raiders in AD869, but it is not known where he was killed or buried.
St Edmundsbury Cathedral has previously said he could be found in a former monks' graveyard beneath tennis courts in Bury St Edmunds' Abbey Gardens.
Historic England has granted permission for the courts to be relocated.
St Edmund ruled the Anglo-Saxon realm of East Anglia between AD855 and 869.
Maldon in Essex and Hoxne in Suffolk have previously been thought to be the place where St Edmund died, and it has been said his remains were interred in France or Westminster Abbey.
St Edmundsbury Council has been granted scheduled monument consent by Historic England to move the tennis courts.
The council would not comment on whether the removal was related to the possible location of human remains but said it hoped work on new courts can begin after the completion of two consultancy studies of the Abbey of St Edmund in the autumn.
Evidence gained from the results of both studies is likely be used to apply for funding for future projects, it said.
'Long-term ambition'
Robert Everitt, St Edmundsbury's cabinet member for families and communities, said: "It would be wrong for us to pre-empt the results of these studies before making decisions about the rest of the area."
The council said the remnants of the former Eastgate plant nursery will be demolished and two new tennis courts will be constructed.
It said it is expected the new courts will be open by summer 2019.
Dr Will Fletcher, inspector of ancient monuments at Historic England in the East of England, said moving the tennis courts has been a "long-term ambition".