Ed Sheeran chapel plans come up against newts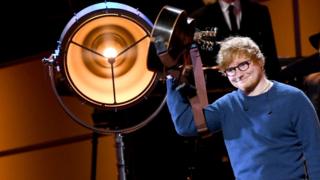 Ed Sheeran's plans to build a private chapel on his Suffolk estate could be scuppered by newts.
The 27-year-old singer, who lives near Framlingham, submitted an application to Suffolk Coastal District Council but a number of objections were lodged, as The Sun reported.
Neighbours have concerns not only about having another church in the village, but also about the effect on the area's great crested newt population.
The newts are a protected species.
Sheeran's application was lodged after he announced his engagement to long-time girlfriend Cherry Seaborn in January.
Those against the plans say the development on the estate has shown a "total disregard to the local ecology".
It is claimed a pond in a neighbouring garden had "one of the largest populations of [great crested newts] in the area".
One objector wrote: "It would appear that the applicant - in his desire to satisfy the needs of the spiritual world - continues to overlook his obligations to the living world, particularly that of protected species."
Another wrote: "Any damage to such habitats or the killing of such protected creatures can also lead to criminal or civil prosecutions."
They stated they intended to involve Natural England, the government body in charge of protecting Britain's wildlife.
While the planning application acknowledges the existence of the newts in a neighbouring pond, it states Sheeran's pond - which is 180 metres away - would be "a poor habitat for great crested newts" and the nearby population was "not expected to migrate to the chapel site".
The plans for Sheeran's chapel state it would be made of flint and in a Saxon style, with a 14.6m (48ft) round tower, and would be "strictly non-denominational and for spiritual regeneration of both traditional and less traditional types".
Suffolk Coastal District Council is expected to make a decision in April.