Norfolk and Suffolk mental health beds closures 'shocking'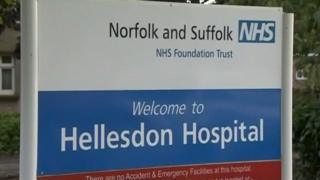 Thirty-six mental health beds are being closed by Norfolk & Suffolk NHS Foundation Trust, eight of them permanently.
Further details have emerged after it was revealed a mental health ward in Ipswich would be temporarily shut.
The trust said the closures "were in the best interests of patients".
But the Campaign to Save Mental Health Services in Norfolk and Suffolk called the closures "shocking" in the light of inspection reports.
A campaign spokesman said: "There have been two Care Quality Commission (CQC) inspections - both of which said there aren't enough beds or staff.
"It appears the solution is to close more beds."
The trust, which has 400 beds in total, is currently in special measures for the second time.
In its latest report last October, the CQC criticised the trust for sending patients elsewhere due to a lack of beds.
The closure of Lark ward in Ipswich on 6 April will mean there are no intensive psychiatric intensive care beds in Suffolk.
'Continuously monitored'
Pete Devlin, the trust's operations director for Suffolk, said Lark ward needed a 2:1 staff-to-patient ratio and the temporary closure was likely to last a few months rather than weeks.
Trust chief executive Julie Cave said the decision was driven by need to increase staffing levels and to invest significantly in improving the environment and safety for patients.
"The safety of our service users and patients is always our principal consideration and we will never in any circumstances allow anything to compromise this," she said.
"These closures are in the best interests of patients.
"Levels of staffing are continuously monitored and we have taken steps to mitigate the pressures on our beds."
The beds being closed are:
Ipswich - 13
Carlton Colville - nine
Gorleston - six
Hellesdon - six (permanent)
Great Yarmouth - two (permanent)