Southwold 'not interested' in council's rickshaw plans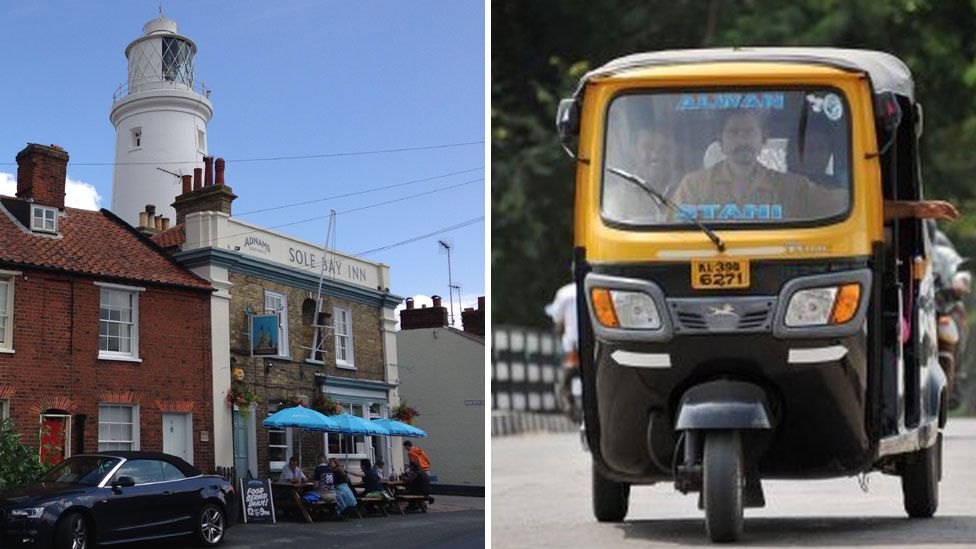 Plans to allow motorised tuk-tuks and cycle rickshaws have been welcomed in all but one town in north-east Suffolk.
A decision on the proposals, which have been part of an eight-week consultation, is due to be made by Waveney District Council on Wednesday.
Beccles, Bungay, Halesworth and Lowestoft have all supported the plans.
But Southwold Town Council said it did not want "any such vehicles to operate within the town".
Under the plans, drivers of motorised or cycle rickshaws will have to be granted a Hackney Carriage licence, similar to taxi drivers.
They will also need to hold a UK driving licence, even if operating a cycle rickshaw as the council said it wants "any person using one of these vehicles to transport the public to have a good knowledge of the road".
Horse and cart 'causes chaos'
The council said permitted rickshaws will be restricted to pre-determined routes, such as the promenade in Lowestoft.
It said two licences would have to be issued, a rickshaw driver licence and a rickshaw vehicle licence.
Waveney council officers are recommending councillors approve the plans.
It is not known why Southwold Town Council is against the idea and it has been approached by the BBC for further comment.
Former mayor Teresa Baggott said she thought it would fit in with Southwold's "twee and quirky" reputation, but said the "sheer volume" of people in the summer was most likely the issue.
"We have a horse and cart that trundles up and down the street in the summer and it causes chaos," she said.
Southwold already has a ban on buses on most of its High Street, introduced to try and reduce congestion.
Related Internet Links
The BBC is not responsible for the content of external sites.