West Suffolk Hospital 'closure' considered over blood bank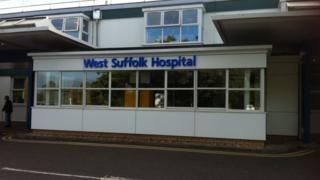 Closure of a hospital was considered after its blood bank was deemed "seriously deficient" and posed a risk to patients, inspectors said.
An internal NHS document leaked to the BBC shows an order that would have "effectively closed down" the West Suffolk Hospital was considered.
But the Medicines and Healthcare Products Regulatory Agency (MHRA) decided the consequences were too big.
West Suffolk Hospital said it had since taken "robust" action to improve.
Nick Jenkins, medical director at the Bury St Edmunds hospital, said deficiencies found were related to quality assurance in its laboratory management processes and computer system.
He said they did not affect the safety of patients or the quality of blood used.
The medicines watchdog said the hospital put in place a "comprehensive remediation plan" after its blood services were inspected in January 2017.
Rated 'outstanding'
According to the document "Pathology Services - The aftermath of consolidation", the hospital's pathology services were "seriously deficient" and "presented a significant risk of providing a product which was harmful to the patient".
It said a "cease and desist order" was considered but the MHRA decided the consequences of closing the hospital were "considered greater than the risk of the blood bank [running] with urgent remedial action".
An MHRA spokesman said: "Immediately following the initial inspection, the trust provided us with a comprehensive remediation plan, and satisfactory progress has been made towards the trust reaching a fully compliant state."
The hospital has been re-inspected three times since the initial inspection, and continued "to satisfy inspectors that we provide a service that is safe", Mr Jenkins added.
West Suffolk Hospital is currently rated as "outstanding" by the Care Quality Commission (CQC).
The document also highlighted problems with changes to pathology services in the East of England.
A pathology partnership, led by Addenbrooke's Hospital in Cambridge, was set up in 2011, covering hospitals in Suffolk, Norfolk, Cambridgeshire, North East Essex and North and East Hertfordshire.
It made losses of £41m by March 2017, the document said.
The document highlighted a "lack of clinical leadership" which allowed "failures to go undetected until it was too late".
It said safety concerns raised by consultants were "ignored" and some patients given the wrong results.