The Hold, Ipswich: Work to begin on £20m archive project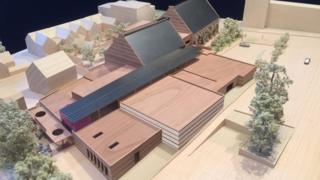 Work on a new £20m archives building will begin this spring after the project received lottery funding.
The Heritage Lottery Fund is providing £10.3m for The Hold, to be built near Ipswich's waterfront.
It will house the majority of the Suffolk Record Office's collection and provide facilities for the university.
Suffolk County Council, which has pledged £5m toward the project, said The Hold is scheduled to open by the end of 2019.
It is to be built on a site at the junction of Fore Street and Grimwade Street, opposite the main University of Suffolk building.
The council, which is responsible for the Suffolk Records Office, said the new building will "enable existing and new audiences to explore 900 years of archival material and share Suffolk's treasured stories".
Councillor Tony Goldson said: "The Hold project will enable us to deliver many more archive-related events, learning activities and digital programmes than we can currently offer across the whole county, whilst completely transforming our ability to care for and showcase our county's records and collections."
The University of Suffolk has also part-funded The Hold and its registrar and secretary, Tim Greenacre, said the building will provide "some outstanding new teaching and conference space".
It will replace the existing Suffolk Record Office building on Gatacre Road in west Ipswich.
Some of the archive held in Bury St Edmunds will be moved to Ipswich, but about 15% of the county collection will remain there.
A consultation about the future of the office in Lowestoft, which houses about 8.6% of the county's collection, is due to begin later this spring.